STEP 1: DETOX / BODY BRUSH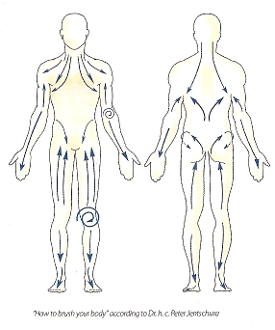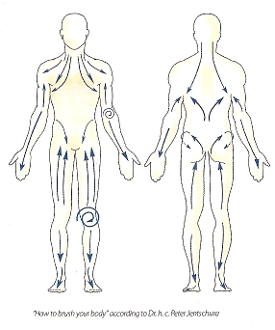 STEP 1: DETOX / BODY BRUSH
Dry Skin brushing stimulates blood and lymph flow and helps rid oneself of cellulite. It is a great support to our largest organ of elimination, the skin. All you need for skin brushing is a body brush with natural bristles. Skin brushing – also called dry body brushing – is a simple technique that stimulates blood and lymph flow, exfoliates the skin by removing dead skin cells and encourages new cell growth. We recommend skin brushing be done just before a shower, so that you can rinse off the toxins completely. Brush every day, and you will notice better skin quality and a better sense of wellbeing.
Ingredients: Natural wood base, 100% boar bristles
Application: All skin brushing movements should be towards the heart, to encourage the return of blood and encourage lymphatic flow. Pay particular attention to the cellulite-prone areas like your thighs and hips. Brush your abdomen with a circular clock-wise motion. Brush your arms with an upward motion, moving towards the heart. Brush with medium length strokes that are firm but not so hard that it hurts. Brushing should feel really, really good! If you brush too lightly, it will be ineffective. If you have sensitive skin, you may see a little blush of color after your first brushings. Don't be too rough. If your skin turns red and become irritated, you are over-brushing. The whole process should take two to five minutes, or longer if you desire. Use this dry bushing image as a guideline.